🖍️✨ Coloring: An Activity for Everyone! 🧡
🌟 Did you know that coloring is an amazing pastime that's perfect for people of all ages? Here are some reasons why everyone can enjoy the benefits of coloring:
🧠 Cognitive Stimulation: Coloring keeps your mind active and engaged, promoting mental clarity.
🖋️ Fine Motor Skills: It helps improve hand-eye coordination and dexterity.
😌 Stress Reduction: Coloring is a fantastic way to unwind and relax, no matter your age.
👥 Social Engagement: It's a great group activity, fostering social interaction and connections.
🎨 Creative Expression: Discover your artistic side and feel accomplished with every finished page.
👵👴 Seniors Benefit Too: For our elderly loved ones, coloring can bring joy, purpose, and a sense of achievement.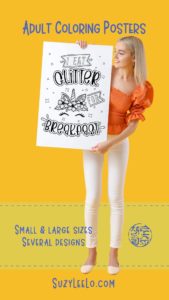 I will be bringing my art to the Rose Lane Nursing and Rehabilitation in Massillon this Saturday, November 11th. Come find out how you can enjoy bringing more color in to your life with my colorable designs. I will have some of my art available as paintings and engravings as well. <3
Can't make it to the event? That's ok! I have a lot of art you can download and color today. Browse for printable coloring pages here that you can download today.
Printable Coloring Pages by Theme
Are you looking for some printable coloring pages based on a topic to color? Here are a few suggestions to start with.
Large coloring posters are also available.
Coloring Pages are a simple yet fulfilling way to add a splash of creativity to your life. 🌈✨ #ColoringForAllAges #RelaxAndCreate #SuzyLeeLo #AdultColoring #colortherapy #arttherapy