Color Along – Heather and Friends Facebook/YouTube session
I had the pleasure to be the host for a color along in the facebook group Heather and Friends Art. My first color along ever! Originally I was planning to only be on for an hour. I was encouraged to continue on and it ended up being about an hour and 45 minutes of coloring fun!
Thank you to those who attended live. I enjoyed our conversation very much! And I am happy to have introduced some of you to new coloring techniques to use with your gel pens and crayons. It was also nice to have moments of mistakes and be able to share my process for changing things up and including my mistakes in the final result.
We didn't get to finish the coloring page in one sitting, unfortunately. I do plan to finish it and share the results in the future. If you colored the image I would love to see it! Tag me on Facebook, send me a private message or add a link to the comments below. I would love to see! <3
A HUGE THANKS to those who attended live! Thank you for being so flexible with switching platforms after I lost connection to FaceBook.
Watch the Replay
If you missed the live session that's ok! YouTube was able to capture the entire session.
I am starting you off at 1:10 below where I officially introduce the color along. (I will come back and share a playlist of time markers for you to skip ahead to good spots.)
Want to be in a future video?
I mentioned the Sufi Tale "This Too Shall Pass" in this session. It is available as a free page to download over here. It was a gift I gave out at my Floral Phrases book release party. A powerful story that I absolutely love.
Color the coloring page "This Too Shall Pass" and share it with me for a chance to be included in an upcoming video.
This Too Shall Pass
Coloring Clubhouse Subscription
The page chosen for this color along is actually one that was originally introduced to the clubhouse collection. I shared about how I have a subscription service where I release a free new page to color every week. I will be sharing more about this subscription service again. For now I had to share the newest coloring page added to the collection:
We had many fun moments of conversation. Two topics came up: Unicorns and the love of glitter. I thought it would be fun to release this coloring page in to the clubhouse collection!
Affirmations
I had the opportunity to share with everyone what kind of coloring pages I enjoyed making. And how I love to create things that are meant to promote positive inner dialogue. Others shared with me about some of their affirmations. And we had a good giggle at what can keep us going. 🙂
And I did briefly mention how I like to create affirmation plaques with my laser engraving machine. Feel free to take a look: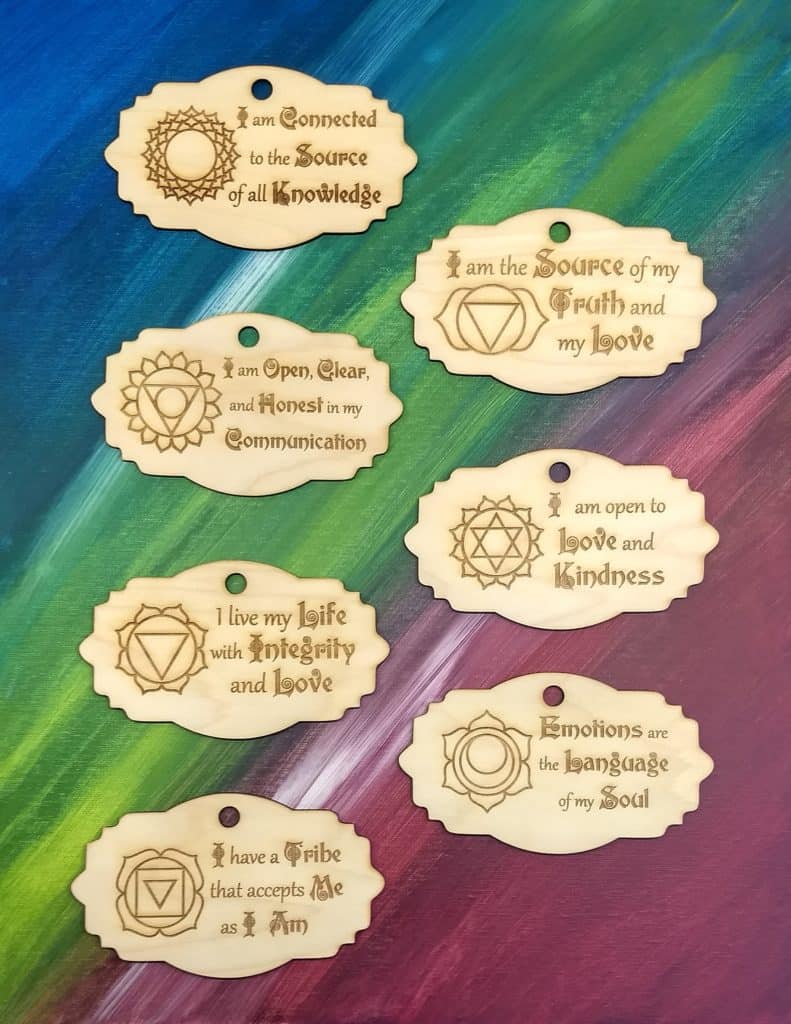 Chakra Affirmation Plaques
Chakra Affirmation Plaques. Messages that reflect healing intentions for the Chakras. Buy the set and get one free! Customize with your own affirmations.
I learned a lot with my first live color along.
Speak up for the mic. (Or place it in a better place. Possibly both. hehe)
Resolved our issue with the Nikon camera cutting out about every 10 minutes. Don't worry, won't happen next time!
I still need to learn more about overlays! Next time my title image and other elements will be placed better. Promise. 😉
Do you have a club or group that you would like me to do live sessions with? Feel free to send me a message to tell me about your ideas. <3
The following links are affiliate links. Using them could help support me to bring you more fun with coloring!